The best part of writing my book, Crossing the Boundary, was meeting and learning from the amazing spiritual teachers I interviewed and being able to stay in touch with them. I recently had the opportunity to bring Starhawk to the Stony Point Center near where I live and introduce her to a very adoring crowd of folks. People were eager to hear her talk about a wide range of issues including her new book, City of Refuge, which is a sequel to her best selling The Fifth Sacred Thing. A great many of the people in the audience spoke of being inspired on their spiritual path by Starhawk's earlier work, The Spiral Dance: A Rebirth of the Ancient Religions of the Goddess, which helped launch the modern feminist spirituality movement.
Starhawk is a true boundary crosser, not only in her choosing to shift from being a practicing Jew to  Pagan witch, but in her consistent activism, challenging our political and social norms and awakening others through her writings, teachings and actions that a different, more loving and cooperative world is possible. She spoke of her current work leading eco-activist and permaculture workshops and answered questions on a very wide range of issues including the dynamics of our current political options in the U.S.
Coming up on March 25th, I'll have the opportunity to speak with another woman I interviewed for Crossing the Boundary, Allyson Grey. We'll be doing a panel at the Chapel of Sacred Mirrors, CoSM, which she and her husband, renowned visionary artist, Alex Grey have developed. If you've never been to CoSM, and you live anywhere close enough to Wappinger Falls, NY, along the Hudson River, you are in for a wonderful experience to just see what is happening there. The basic mission of CoSM is "to build an enduring sanctuary of visionary art to inspire a global community." Please take some time to tour around their website to get a taste of the art and inspiring work that is being done there. I'm looking forward to talking with Allyson about the many themes in Crossing the Boundary.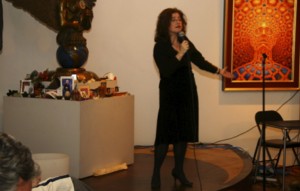 In attending the event on March 25th, you can come early for a tasty vegan dinner at 6 or just come for the panel and discussion at 7 PM. There's always a very interesting group of people who come to CoSM events.
CoSM event page: http://cosm.org/events/friday-nights-crossing-boundaries/
Facebook event page: https://www.facebook.com/events/1029748750405085/
In my own teaching work, I continue to integrate mindfulness meditation, Agni (light-fire) Yoga, and shamanism at Tree of Life Meditations retreats. See: http://www.sacredriverhealing.org/april-2-2016-flyer.pdf for the next retreat on April 2nd, and the Tree of Life Meditations Facebook page: https://www.facebook.com/TreeOfLifeMeditations/.
Meanwhile folks who have read Crossing the Boundary continue to tell me they are enjoying and finding themselves inspired by what they find in there.
Please share any or all of this message.
With blessings and love,
Alan