"With the poor people of the earth …..I cast my fate."
From the Cuban song, "Guantanemera"*
El bloqueo – "The Cuban Embargo, begun in 1960, prevents US businesses, and businesses organized under US law or majority-owned by US citizens, from conducting trade with Cuban interests. It is the most enduring trade embargo in modern history.[The United Nations General Assembly has passed a resolution every year since 1992 demanding the end of the US economic embargo on Cuba, with the US and Israel being the only nations to consistently vote against the resolutions."
–Wikipedia
Part 1: PLEASE HELP END THE CUBAN EMBARGO. While the U.S. supports, militarily and financially, a host of authoritarian regimes around the world, it continues to justify this destructive, unjust and failed policy aiming to change the Cuban government. Please take a moment and call your congressperson and ask them to support actions to end the embargo. A short Google search brought up just a couple of groups that appear to be acting responsibly with that purpose. Please check out the Cuba Study Group, cubastudygroup.org or the Facebook group: End the Embargo on Cuba which is sponsored by the Latin America Working Group, https://www.lawg.org/about-us/.
Part 2:
I just returned from my second trip to Cuba. The first, in 1968, was when I was 24 years old and an avowed enemy of the Imperialistic adventures of my own government in Vietnam, Cuba, Africa or around the world. While I was in Havana, I telegraphed my draft board that I wouldn't be appearing for my scheduled induction because I was busy learning more about revolution. You see, those of us who were in the far end of "the naiveté faction" of the anti-war, peace and justice movement tended to believe we would transform the U.S. to be a democratic, socialist nation, allied with the Cuban people and their revolution.
Lots has happened since then. The world has changed. I've changed. Yet I just can't think of Cuba without tears coming to my eyes. Los pobres de la tierra, the poor people of the earth, are still there, as they are throughout Central and South America, Africa, Asia and the good old U.S.A. But Cuba promised something different. The Cuban revolution did bring free health care, universal free education and homes for the homeless. But there's not enough food and medicine. In some ways worse, there's little spirit of making a new world or even bettering this one. People I met, mostly just want to get by and leave for Miami when possible. Yes, it's the embargo. But no, it's also rigid government control, a lack of free press, and the attempt to impose an idealized version of human life on people not ready for it. But that's revolution for you. The poor people of the earth just don't cooperate.
It's, of course, more complicated. I was there with my wife, Ginny, for just twelve days and talked to a few dozen people at best. So what do I know? We weren't there as investigators or reporters, we were on vacation with visas that declared we were there "to support the Cuban people." But you can't go to Cuba, even on vacation and not think about these things. The ubiquitous billboards and posters, mostly fading, call out the revolutionary slogans with pictures of Che, Fidel and other heroes of the revolution.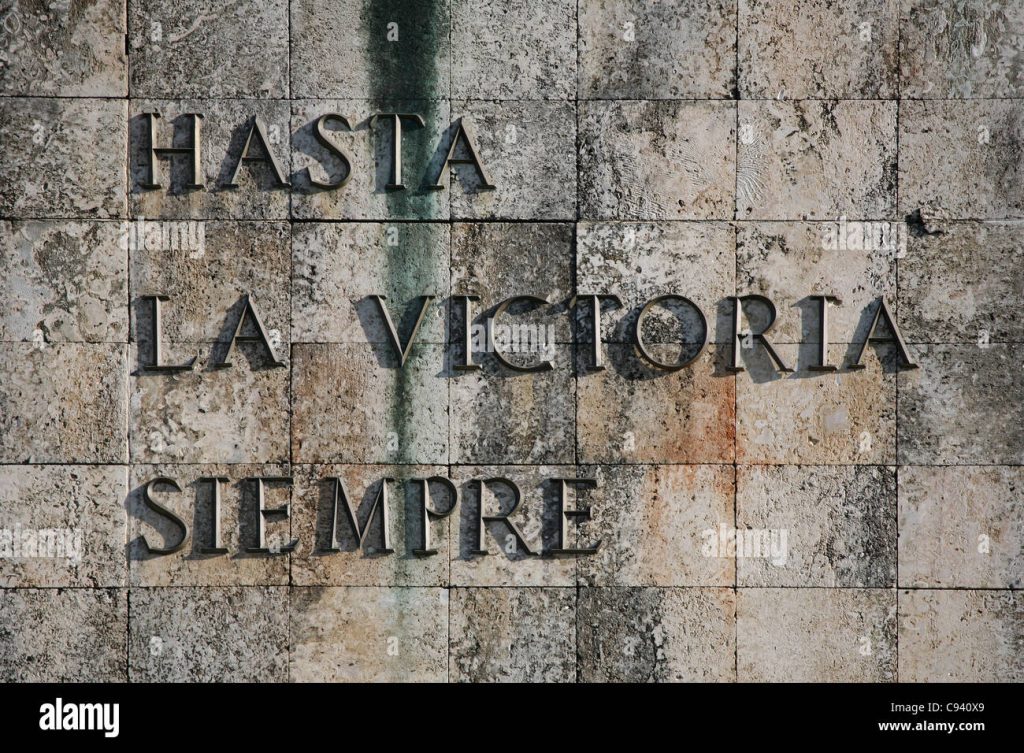 "Hasta la victoria siempre!" "Solo la unidad now hace invencibles" (Only unity makes us invincible). At the same time, walking down the streets in Old Havana was walking through a gauntlet of hustlers trying to be your friend and get some pesos from you. Something to help feed their families. Splendorous Spanish architecture was everywhere, but for every one being refurbished, three are literally crumbling to the ground.
It seems the whole thrust of the Cuban policy makers is to build the tourist industry and bring the euros and dollars into the economy. A sizable part of the money from tourism goes to the government which owns the hotels and tourist stores. For that reason, Americans are told we must not shop at government establishments. If the government had more money, presumably they could pay higher salaries (professors and doctors earn as little as $20-30/month) and distribute more free or low-cost food to the people, rebuild infrastructure, etc.
Most people we talked to were bitter about this. They see glitzy hotels and stores with fancy goods that are out of their reach. They blame the government. With COVID and post-COVID realities, tourism is way down so the trickle down from tourism is just not happening. And perhaps more to the point, there is a lack of democratic process to decide on these policies and how to reform them.
People who went through Cuba's excellent, free educational system to become professional doctors, teachers, lawyers, give up their careers to work and earn magnitudes more money as taxi drivers, tour guides, renting their apartments to tourists, or playing guitar at restaurants. Those who stay in their professions have family who hustle that free-enterprise world or receive money from relatives in Miami.
Cuba is changing, slowly. It's possible to be hopeful from a distance. But I didn't see much hope there. So many families are torn apart because the young are now in Miami, New York or somewhere else where there is more opportunity. Of course, most Latin American countries face similar circumstances. Maybe it's that expectations are or were different for Cuba.
Bottom line, I encourage you to visit. It's a beautiful country, beautiful people, music everywhere, and it's inexpensive. It seems most Americans believe you can't travel there. Not true. Most American airlines have regular flights to Havana. The visa process is very simple. You can go, enjoy, learn, and "support the Cuban people" by bringing some medicines, children's toys, household goods, etc..
And finally, HELP END THE CUBAN EMBARGO!
Hasta la victoria siempre – Ever onward to victory. Here, there, everywhere.
~Alan Levin
WAIT!!
Not to leave you with a depressing message, check out these videos from Playing for Change:
Chan Chan (heard everwhere in Cuba)
*The version of the song created by Jose Martí and Orbón was used by Pete Seeger as the basis of his reworked version, which he based on a performance of the song by Héctor Angulo. Seeger combined Martí's verse with the tune with the intention that it be used by the peace movement at the time of the Cuban Missile Crisis. He urged that people sing the song as a symbol of unity between the American and Cuban peoples, and called for it to be sung in Spanish to "hasten the day [that] the USA … is some sort of bilingual country." –Wikipedia
Part 3
Consciousness, spirituality and revolution.
It seems clear that whatever else moved them, Che and Fidel were idealists. Like other "isms," idealism can lead to the sacrifice of our connection to our true nature which is beyond ideas and concepts. It can lead one to acts of violence that betray the sanctity of life and a failure to listen deeply to the divine source that is ultimately compassion and love. (see my post about "isms"  http://www.crossingtheboundary.org/crossing-the-ism-boundary/) 
A painting on the wall where we stayed in Havana really struck me. It takes the theme of Michelangelo's "La Pieta" – of Mary holding Jesus – and has a more modern, Goddess figure holding a crumbling Havana. Art can be revolutionary.
May Her spirit lift the splintered ruins of the revolution to higher ground.
(The painting is by Cuban artist, Roniel Andrade)