"The United States was founded as a white nationalist country, and that legacy remains today. Things have improved from the radical promotion of white people at the expense of all others, which has persisted for most of our history, yet most of us have not accepted the extent to which white identity guides so much of what we still do. Sometimes it seems that the white nationalists are most honest about the very real foundation of white supremacy upon which our nation was built."
                                               –R. Derek Black (godson of David Duke)
It is up to each of us to question the worldview of our parents and whatever sense of  tribal identification they pass on to us. We must find within ourselves what truths to hold and what to toss out. Some adopt without question their parents' ideas or conversely reject them through unconscious rebellion. Others take a more balanced approach, and through a rational process of evaluation or through a process of spiritual discovery, discern for themselves what is valuable from what is destructive, sort the good from the bad, (which can sometimes be very bad).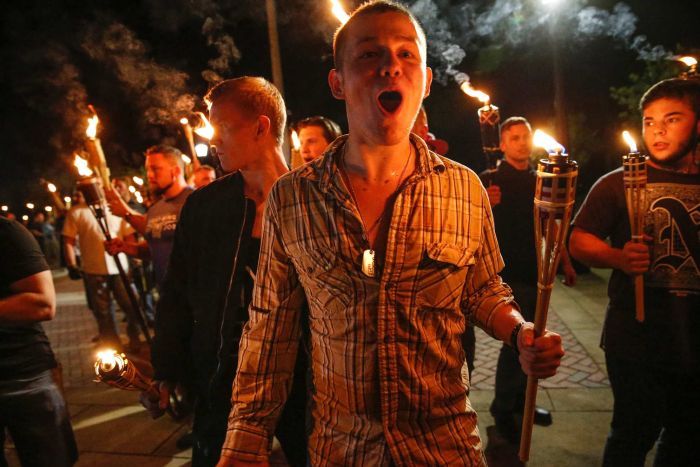 I am always heartened by the courage of those who find themselves in a world in which they no longer want to live, and choose to step out, cross what often feels like a great psychological boundary. I tend to listen closely to their observations of the minds and hearts contained in the world they left. This is essentially the theme of this blog and my book Crossing the Boundary. A few days ago, I saw a piece in the New York Times that gave me that feeling of deep appreciation and drew my close attention. Among the many articles and opinion pieces on the White Supremacist/Neo-Nazi march in Charlottesville, and the remarks by our Madman in Chief, there was one by R. Derek Black, the son of one of the leaders of the White Nationalist movement and a godson of David Duke.
In his piece, "What White Nationalism Gets Right About American History," he makes clear his rejection of his White Supremacist roots. But he also shares deep insights into the thinking of those in that group and the truth they do hold. The truth is that their core belief in white supremacy has indeed dominated the history of this country until very, very recent time and is still very present throughout our society.
The bold statement above, from a man immersed in White Supremacist culture since childhood, is to me a cautionary message for all of us who feel we are immune to the feelings and thinking of this truly disgusting ideology. It was the explicit and/or implicit view of the culture in which our own consciousness was nurtured and developed. This insidious infection of the mind has almost certainly entered into our hearts and we will only begin to be free of it through acknowledging its present existence.
I am curious to know the process that Mr. Black went through to liberate himself from his racist conditioning, insofar as he has. It would help shed light on how we can all question our most firmly held beliefs. Humanity appears to many observers, to be going through a major shift in consciousness. Certainly, we are liberating ourselves, albeit fitfully, from old notions of tribal, racial and gender superiority, I would suggest we also need to question the notion of human superiority over the rest of nature with whom we share this world. To do this, we need to cultivate awareness of our own mind and sense of identity and learn the methods of transformation that are the gifts of our spiritual ancestors.
I strongly recommend reading R. Derek Black's piece here:https://www.nytimes.com/2017/08/19/opinion/sunday/white-nationalism-american-history-statues.html and which I've copied below.
                                                                 –Alan Levin
---
My dad often gave me the advice that white nationalists are not looking to recruit people on the fringes of American culture, but rather the people who start a sentence by saying, "I'm not racist, but …"
The most effective tactics for white nationalists are to associate American history with themselves and to suggest that the collective efforts to turn away from our white supremacist past are the same as abandoning American culture. My father, the founder of the white nationalist website Stormfront, knew this well. It's a message that erases people of color and their essential role in American life, but one that also appeals to large numbers of white people who would agree with the statement, "I'm not racist, but I don't want American history dishonored, and this statue of Robert E. Lee shouldn't be removed."
I was raised by the leaders of the white nationalist movement with a model of American history that described a vigorous white supremacist past and once again I find myself observing events in which I once might have participated before I rejected the white nationalist cause several years ago. After the dramatic, horrible and rightly unnerving events in Charlottesville, Va., this past weekend, I had to make separate calls: one to make sure no one in my family who might have attended the rally got hurt, and a second to see if any friends at the University of Virginia had been injured in the crowd of counterprotesters.
On Tuesday afternoon the president defended the actions of those at the rally, stating, "You also had people that were very fine people, on both sides." His words marked possibly the most important moment in the history of the modern white nationalist movement. These statements described the marchers as they see themselves — nobly driven by a good cause, even if they are plagued by a few bad apples. He said: "I'm not talking about the neo-Nazis and the white nationalists, because they should be condemned totally. But you had many people in that group other than neo-Nazis and white nationalists."
But this protest, contrary to his defense, was advertised unambiguously as a white nationalist rally. The marchers chanted, "Jews will not replace us"; in the days leading up to the event, its organizers called it "a pro-white demonstration"; my godfather, David Duke, attended and said it was meant to "fulfill the promises of Donald Trump"; and many attendees flew swastika flags. Whatever else you might say about the rally, they were not trying to deceive anyone.
Almost by definition, the white nationalist movement over the past 40 years has worked against the political establishment. It was too easy for politicians to condemn the movement — even when there was overlap on policy issues — because it was a liability without enough political force to make the huge cost of associating with it worthwhile. Until Tuesday, I didn't believe that had changed.
We have all observed the administration's decisions over the past several months that aligned with the white nationalist agenda, such as limiting or completely cutting off legal and illegal immigration, especially of Hispanics and Muslims; denigrating black communities as criminal and poor, threatening to unleash an even greater police force on them; and going after affirmative action as antiwhite discrimination. But I had never believed Trump's administration would have trouble distancing itself from the actual white nationalist movement.
Yet President Trump stepped in to salvage the message that the rally organizers had originally hoped to project: "George Washington was a slave owner," he said, and asked, "So will George Washington now lose his status?" Then: "How about Thomas Jefferson?" he asked. "Because he was a major slave owner. Now are we going to take down his statue?" He added: "You're changing history. You're changing culture."
Until Trump's comments, few critics seemed to identify the larger relationship the alt-right sees between its beliefs and the ideals of the American founders. Charlottesville is synonymous with Jefferson. The city lies at the foot of Monticello and is the home of the University of Virginia, the school he founded. Over the years I've made several pilgrimages to Charlottesville, both when I was a white nationalist and since I renounced the ideology. While we all know that Jefferson was the author of the Declaration of Independence, which declared that "all men are created equal," his writings also offer room for explicitly white nationalist interpretation.
My father observed many times that the quotation from Jefferson's autobiography embedded on the Jefferson Memorial is deceptive because it reads, "Nothing is more certainly written in the book of fate than that these [the Negro] people are to be free." It does not include the second half of the sentence: "Nor is it less certain that the two races, equally free, cannot live in the same government. Nature, habit, opinion has drawn indelible lines of distinction between them."
Jefferson's writings partly inspired the American colonization movement, which encouraged the return of free black people to Africa — a goal that was pursued even by Abraham Lincoln during the first years of the Civil War.
The most fundamental legislative goal of the white nationalist movement is to limit nonwhite immigration. It is important to remember that such limits were in place during the lifetimes of many current white nationalists; it was the default status until the 1960s. In the 1790s, the first naturalization laws of the United States Congress limited citizenship to a "free white person."
Legislation in the 1920s created quotas for immigration based on national origin, which placed severe restrictions on the total number of immigrants and favored northern and western European immigration. It was only with the civil rights movement of the 1960s that the national origin quota system was abolished and Congress fully removed the restriction favoring white immigrants.
I'm not offering these historical anecdotes to defame the history of the country. I'm not calling for Jefferson's statue to be removed along with the Confederate memorials. I do, however, think it is essential that we recognize that the white nationalist history embedded in American culture lends itself to white nationalist rallies like the one in Charlottesville. If you want to preserve Confederate memorials, but you don't work to build monuments to historical black leaders, you share the same cause as the marchers.
Until Tuesday I believed the organizers of the rally had failed in their goal to make their movement more appealing to average white Americans. The rally superimposed Jefferson's image on that of a pseudo K.K.K. rally and brought the overlap between Jefferson and white nationalist ideas to mind for anyone looking to find them. But the horrific violence that followed seemed to hurt their cause.
And then President Trump intervened. His comments supporting the rally gave new purpose to the white nationalist movement, unlike any endorsement it has ever received. Among its followers, being at that rally will become something to brag about, and some people who didn't want to be associated with extremism will now see the cause as more mainstream. When the president doesn't provide condemnation that he has been pressed to give, what message does that send but encouragement?
The United States was founded as a white nationalist country, and that legacy remains today. Things have improved from the radical promotion of white people at the expense of all others, which has persisted for most of our history, yet most of us have not accepted the extent to which white identity guides so much of what we still do. Sometimes it seems that the white nationalists are most honest about the very real foundation of white supremacy upon which our nation was built.
The president's words legitimized the worst of our country, and now the white nationalist movement could be poised to grow. To challenge these messages, we need to acknowledge the continuity of white nationalist thought in American history, and the appeal it still holds.
It is a fringe movement not because its ideas are completely alien to our culture, but because we work constantly to argue against it, expose its inconsistencies and persuade our citizens to counter it. We can no longer count on the country's leader to do this, so it's now incumbent upon all of us.