This message comes with a link to a prayer/meditation that I recorded for my podcast series. The practice is one that I learned from my good friend and teacher of many years, Ralph Metzner, who joined the ancestor spirits in March of 2019. It's a very helpful way to focus your attention before going on a journey of any kind, whether inward for healing, growth or exploring and expanding consciousness, or outward through the world. Similarly, it can be used at the end of a journey for opening to and expressing gratitude.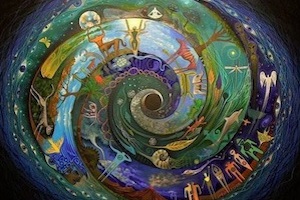 "Communing with the Realms of Life on Earth" begins with a short meditation to center, balance and open to a fuller integration of body, mind and spirit. We then invoke (or call attention to) the spirits of the different realms: place, time, the four directions, the animals, plants and fungi, minerals, ancestors and humans. We do this for the good of ourselves and all life on Earth.
Here is a link to the podcast which I hope you enjoy and find helpful: https://www.buzzsprout.com/1827447/9799490.
Much has been said about the need for a major paradigm shift in human consciousness in order to avert or mitigate the impending catastrophic consequences of human activity over the past centuries. Some of the elements of that include shifting from an individualistic, competitive orientation towards greater cooperation, collaboration and mutual respect. Going deeper, the transformation we are opening to calls for a different quality of awareness of who we are, what our place is in this world, and how we pay attention to what is all around us.
I think I am safe in saying that anyone reading this has, like myself, been strongly conditioned with the attitude that humans are the only truly intelligent life on Earth. While a few alternative scientific studies have revealed some kinds of intelligence in animals and even plants, there is still the tendency, for most of us, to keep our attention focused primarily on humans. This may be true even if we have begun to adopt beliefs that humans are not the pinnacle of evolution or that consciousness is not a product of the human brain. Beliefs do not become our reality until we essentially embody them in the substance of our body, until we know in our heart and gut. This cultivation of a change in consciousness takes openness, intention and practice.
In the meditation/prayer "Communing With the Realms of Life on Earth" there are several suggestions that stretch the boundary of the mainstream consensus of what is real. One example is opening to the non-physical, spiritual, intelligent aspects of animals, plants and minerals. This was (is) the way indigenous people related as they sought prayerful connection with the spirit of a particular animal they were hunting or sought the benefit of a plant for medicine or spiritual awareness.
Other elements of the Communing practice is a focus on place and time as having sacred energy with which we can attune; the calling of attention to the spiritual energy of the four directions of the planet; the opening to experience the presence of ancestors who are no longer "alive" in physical bodies. Rather than believe, you are asked to simply be open to the possibility that when you direct your attention with thought, heart and senses, without prejudgment, you may experience these realities for the first time or more deeply.
I think this non-dogmatic, empirical approach and attitude is what can help us shift our consciousness and contribute to the collective transformation of humanity. We have been counseled to "be the peace we want to see in the world." Likewise, may we be the mutually respectful, multi-dimensional beings that are vehicles of compassion and bring the harmonizing power of Spirit throughout the web-of-all-beings within which we live. I invite you to listen to this practice and I hope it is helpful to you in that realization.